What is a Discovery Flight?
A discovery flight is a chance for you to learn what it's like to fly an airplane. You'll fly with an experienced FAA certificated flight instructor in a safe, well-maintained, modern aircraft. Most importantly, a discovery flight is a fun and amazing life experience!
Who Should Take A Discovery Flight?
Anyone who is interesting in learning more about aviation! There is no age limit, no commitments, and no high-pressure sales.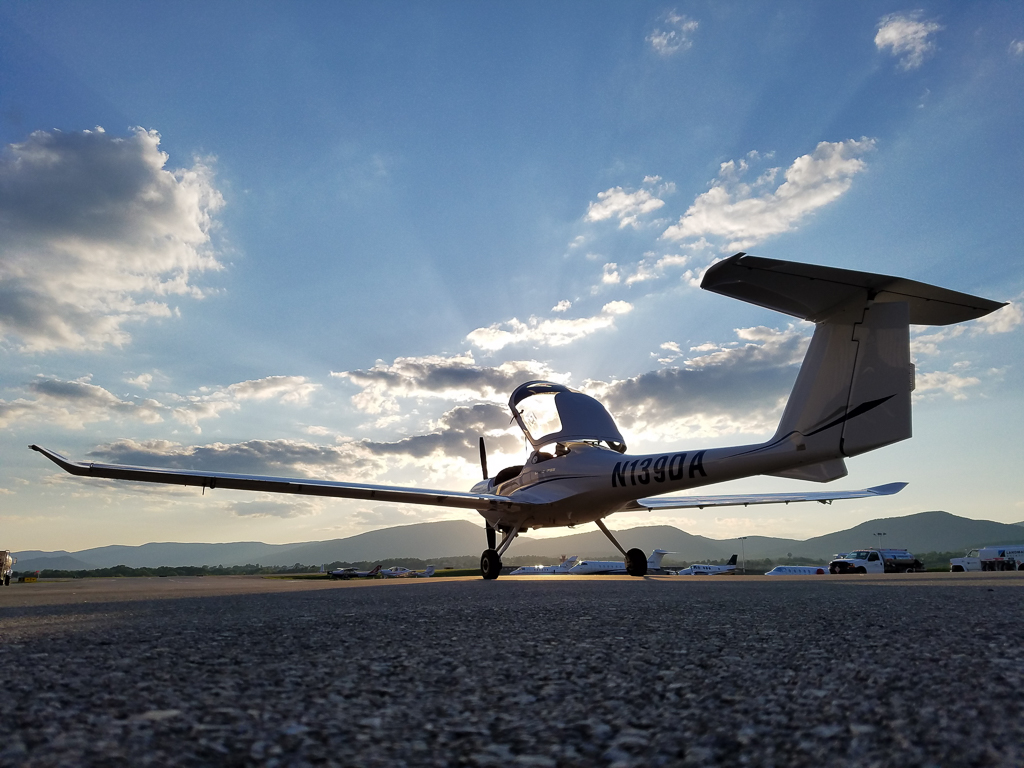 We have a few different options you can choose from...

DA40 (Four-Seater) - $125
Simulator (Full Motion Flight Sim) - $49

General Itinerary and Description
Discovery flights are tailored to the individual who has scheduled them and will vary based on your experience, goals, questions, etc. Someone who has had previous flying experience and is curious about our aircraft may have very different instructional content in their flight versus someone who has never flown before. That said, we do try to stick to a general timeline:
Introduction and Briefing (5 - 10 minutes)
Upon arrival, you will be greeted at our door and escorted into the secure area of the hangar and into our office. We will spend a few minutes getting to know you and allowing you to get to know us. If you have any general questions about what you'll be doing during your lesson, this is a good time to ask. Once the paperwork is done, we'll head to the aircraft.


Flight (30 - 45 minutes)
You'll be shown to the aircraft you'll be flying in and given an explanation of some of the fundamentals of the aircraft, shown some of the things we check before flight (the instructor will have already done a thorough preflight before your arrival so you will have more time in the airplane). This is a great time to ask questions about how the aircraft works, etc.

The instructor will help you aboard and make sure your seat belt is secured. The instructor will get on board, secure their own seatbelt, and close the canopy. You will be given a safety briefing (similar to the one you get when you are on a commercial flight).

Your instructor will start the aircraft and move it to a warm-up area away from the hangar. Here, the instructor will do a series of engine and system tests to ensure the aircraft is in safe operating condition. Once the testing is complete, the instructor will make a series of radio calls to air traffic control (ATC). Soon after, your aircraft will move to the end of the active runway. There, another series of system checks will be done and radio calls back and forth with ATC. At this point, it is time for takeoff.

The instructor will move the aircraft onto the runway and set the engine to full power. You'll hear the noise levels increase and feel some acceleration. When the aircraft's speed reaches about 60mph, the control stick will be pulled back and the aircraft will take off and climb. Weather and traffic conditions will have a large impact on where your flight goes from there, but in general, you will fly for about 30 minutes, during which time your instructor will teach you the basics of how you control the aircraft. It is encouraged for you to have your hands and feet on the controls and be the one in control of the aircraft during this phase of the flight. Your instructor will give you guidance and you should feel free to ask questions about the things that are going on in flight.

After about 15 to 20 minutes in the air, you will begin you return trip to the airport for landing. Your instructor will be talking to ATC more frequently during this phase of flight. On final approach, the instructor will assume full control while performing the landing. You may feel a little bump as the wheels touch down or hear squeaking sounds. This is caused by the wheels abruptly spinning up as they touch the runway. You may also hear alarms and traffic alerts. These are also normal. The aircraft will slow down and go back to where the flight began. Once stopped and the aircraft is turned off, the instructor will tell you it's okay to take your seatbelt off and will help you deboard.


Post Flight Briefing (10-15 minutes)
After your flight ends, your instructor will escort you back to our office (after some post-flight photos, of course) where you will have your post-flight briefing, your logbook signed, and ample opportunity to ask any remaining questions you may have. At the end of your lesson, we will escort you back to the parking lot outside of the secure area.
Here are some of the most common questions we get about discovery flights. If you have different questions or would like more info on these topics, please contact us and ask. We're happy to answer questions (after all, that's what being a school is all about!)
Airplane Type
We fly Diamond aircraft. (Diamond is the manufacturer's name, like Subaru or Ford.) The model you will most likely be in for your discovery flight is the DA-40.
Attire
Comfort and mobility is key. Wear comfortable shoes such as sneakers. Heels or work boots are not good options. Dress for comfort in the forecasted weather. The aircraft is warm on the inside, but you will spend a few minutes outside before you get in.
Taking Photos
Feel free to take photos and video! (and to ask us to take your photo in and by the aircraft during your lesson). However, don't forget to take advantage of the learning opportunities! Photos are nice, but the experience of being fully in control of an aircraft in flight is worth way more than 1000 words!
Communications in the Aircraft
You will be wearing a pilot headset to protect your ears from the engine noise and make it easy for you to communicate with your instructor. From time to time you will hear air traffic controllers talking in your headset. They cannot hear you talk unless you are pushing the communication button on your flight control stick. Only your instructor will be able to hear you.
Riders
Have someone who wants to come along and watch your lesson? No problem! Our larger aircraft seat up to four people (including the instructor). Again, the slightly higher rate will apply to your flight. Please be sure to tell us ahead of time that you will have someone with you on your discovery flight so that we may reserve a larger aircraft.
Participation
Some people prefer to be hands on and interactive the entire flight. Others may be more comfortable asking questions and actively learning, but do not want to touch the controls. Either is fine with us. Our goal is for you learn about flying and have a great experience doing it.
Ear and Sinus Issues
It is not advisable to fly when you are sick or congested. If you experience ear pain during your flight, let your instructor know! We will adjust altitude accordingly to relieve the pressure and pain. Don't suffer through it!
Weather and Turbulence
In general, we like smooth air and a sunny day for maximum enjoyment on a discovery flight. There are some legal weather requirements we have to follow. If the clouds are low, it's foggy, or we're having heavy rain and storms, we will be unable to go and will reschedule your flight. If the conditions are rough, but legal, we will leave it up to you whether or not you want to go (though we'll probably advise you reschedule for more enjoyable conditions.)
Air Sickness
It's rare (especially in the calm weather we like to do discovery flights), but there is the potential for air sickness. Sick sacks are available in the storage area in the aircraft next to your arm. If you feel nauseous, please let your instructor know so that they can head back toward the airport. Get the sack ready if you feel even a little bit like you'll need to use it! Focusing on a point in the distance and adjusting the air vent to blow on your face are good ways to ease any feelings of nausea.
Physical Limitations
You have to be able to climb up into the aircraft which is something like getting into a very high truck. We have stairs available, but even with stairs there is a step down to get into the seat and a step up to get out (similar to getting in and out of a hot tub).
Weight/Size Limits
The aircraft has a maximum total weight capacity (which includes you, your instructor, any friends riding along, and the fuel on board) we must be below to take off. When you schedule your discovery flight, you'll be asked for the approximate weights of whoever will be on the flight so we can do the weight and balance calculations ahead of time to ensure we are safe for flight. (You can lie to your friends and family, but please don't lie to us. You can't fool gravity!)
In addition to total weight limits, due to the small size of the aircraft cabin, there are also passenger size limitations. The seatbelts must be able to buckle normally and the controls must remain unobstructed. If you think this could be a factor, we encourage you to make an appointment to come by and see if you'll fit comfortably.
Location/Parking
We are located in the general aviation area of the airport. The physical address is 22 Waypoint Dr., Roanoke, VA 24012. Follow the signs to Signature Flight Support and, once you're in their parking lot, look for our sign on the big hangar door.
Payment
We take cash, check, and credit card. Payment must be made before the flight can be scheduled. Refunds are not available after 7 days from purchase. Funds from expired/unused discovery flights and air tours are used in our charitable outreach programs.
Scheduling
Learning to fly happens on your schedule and so do the discovery flights. Contact us via phone or email with a date and time you'd like to take your flight. If that spot is available on the schedule, it's yours. If someone already has it reserved, we will get in touch with you with other time options and help you find one that will work for you.

Arrive a few minutes early to make sure you get the full time allotted to you. Our hours are flexible to fit your needs, but once booked, we keep a tight schedule.
Airport Security
Our office is located within the secure portion of the general aviation area of the airport. You will not need to go through security checkpoints like you would if you were boarding a commercial flight. However, strict security procedures are in place that you must adhere to and the fines and penalties are very stiff. The two biggest rules to follow to not get in trouble:

1) You must be escorted by someone who has access to the secure area and remain with them at all times. During your lesson, someone from Star Flight Training will be your escort. Remain with them at all times while inside the secure area.

2) Do not bring things that you wouldn't bring while going through a security checkpoint in the commercial terminal. No firearms, weapons, alcohol, etc.

If you have questions about the security procedures or what you are allowed to bring into the secure area, please contact us before your lesson and we will be happy to answer them.